The Leadership Handbook of Silicon Valley's Bill Campbell
Written by Eric Schmidt, Jonathon Rosenberg and Alan Eagle
Published by John Murray Publishers — 2019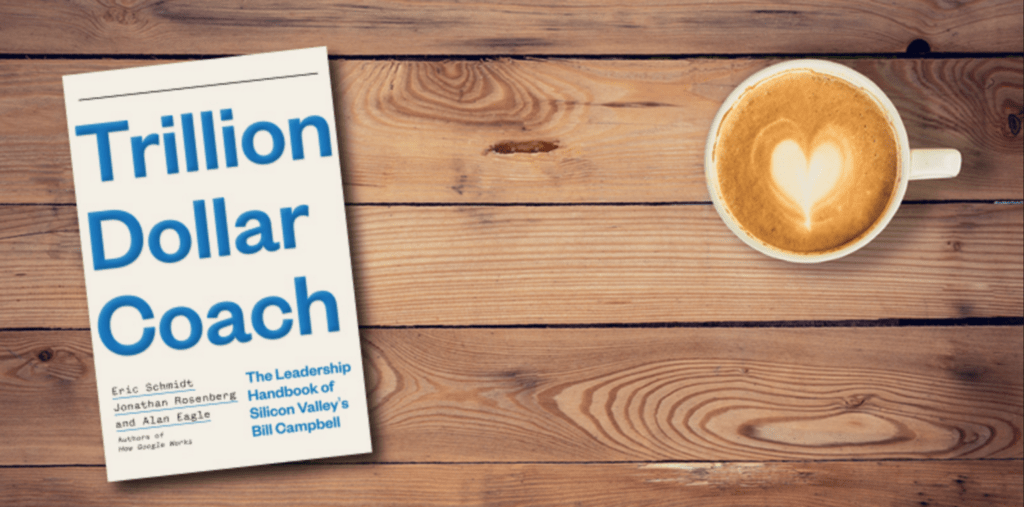 The blurb.
The leadership handbook of Silicon Valley's Bill Campbell.
Bill Campbell helped to build some of Silicon Valley's greatest companies — including Google, Apple and Intuit — and to create over a trillion dollars in market value.
What's it about?
Based on interviews with more than eighty people who knew and loved Bill Campbell, Trillion Dollar Coach explains the Coach's principles and illustrates them with stories from the great companies and people with whom he worked and played. The result is a blueprint for forward-thinking business leaders and managers that will help them create higher performing and faster moving teams and companies.
Did I enjoy reading it?
For sure, it's engaging, tells the story of Bill's life and mixes in stories about pioneering Silicon Valley companies and leaders. As leadership books go, it's an easy and pleasing read.
Is it a good book?
My feelings, and I note, many reviewers feelings, are mixed here. I very much enjoyed reading the book but it's not quite one thing or the other. You could read it as a eulogy to Bill, certainly the authors demonstrate amazing affection for Bill. It covers much of Bill's life story, it could therefore be a biography and of course it's about coaching and leadership. It doesn't quite nail any of these, not surprisingly. Against it's description: The Leadership Handbook of Silicon Valley's Bill Campbell it does come up short. There is lots of narrative about who Bill helped and the situations he helped steer leaders through but it's light on the detail of how Bill helped and the way the book codifies his principles feels weak.
What were my main takeaways?
Not much I or indeed you dont already know, however, a great reminder of the power of simple, free or inexpensive approaches.
Be human at work — Bill built amazing trust, through love, kindness and care, and recognising executives, even giants including like Jobs, Brin and Page as humans. He famously hugged everyone. That trust made my second takeaway possible. "To care about people, you have to care about people; ask about their lives outside of work, understand their families, and when things get rough, show up."
Give direct, even blunt feedback — Through the perspective of care for the person you are working with. I know that we all know this, and I love Kim Scott's book Radical Candor, where she provides a framework for achieving it, however I still rarely observe true candor in the companies and teams I work with. Where I do see it, all too often the feedback is blunt and direct, however, the obvious care for the individual is lacking.
Focus on the team — "Because the World faces many challenges and they can only be solved by teams … …" I've always held a view that teams can be changed and improved more easily than individuals. What sets Bill's approach apart from the traditional Executive Coach is that whilst the most senior executive may have engaged him, he worked with all of the team. Moreover he didn't wait for an arranged session or for those executives to come to him. He gained the trust of the team, and used that trust to problem solve, power broke, challenge, congratulate, chide, direct, and coach. Bill got invloved where he thought he could make a difference, and did. Hand in hand with focus on the team, is the notion that no individual is bigger than the team, a characteristic of if not all most amazing teams.
Stay relentlessly positive — Again we all know this, but, can we say that we practice it? It's so easy to let the challenges and difficulty we face day to day, chip away at our demeanour.
Bill's framework for 1:1s and reviews — I am very often asked to help leaders set 1:1 agenda's, not surprisingly, as I so frequently advise leaders to spend more time in structured, but not formal, discussions with their people. Bill's framework, will help you keep things structured, yet conversational and tick off the topic areas that will help you and your people the most.
Has it helped Crawford deliver for clients?
Yes, I am using some of the specifics, for example Bill's 1:1s framework, and seeing clients get great results through it. I have definitley broadened my outlook to make sure I am working with the Senior Leadership Team as a whole, not just the Owner, CEO or MD in isolation. More than anything I have realised that as extra external horsepower to help businesses and teams improve, my clients really want to engage with someone who can paradoxically have a relentlessly positive outlook, and deliver blunt and direct feedback.
Is it on the must read shelf at Crawford HQ?
Hell yeah! It's so core to how we approach our work with clients. We love the book and try our best to live up to Bill's relentlessly positive outlook combined with blunt and direct feedback — then roll our sleeves up to help.