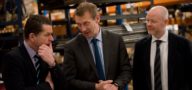 Non-executive advice
Non-executive advisors often referred to as NED's or NXD's, bring independence, knowledge, skill and challenge to your board and executive team.
Clients who retain us to work with their board gain:
Help to fast-track growth.
Insight, impetus and challenge.
Improved governance and experts to help with strategy.
Financial expertise to help you raise development capital, sell or float your business.
Risk management skills to help you stay in business and avoid costly or even fatal mistakes.
Sound judgement and people skills, adding value to your senior recruitment strategy.
Strong relationships with professional advisers, matching relevant skills to your particular business needs.organised
We know it can be lonely at the top, and our clients tell us sharing their business journey with a respected peer is refreshing and energising. Even when our role is to say what they perhaps don't want to hear, these are often the most valuable discussions; yet, it can be challenging for even the most senior employees to do the same.
Sounds interesting and I'd like to know more.
​​That's great leave your details below and we will call you back.
Callback
"*" indicates required fields
Having an external view has been incredibly useful. Crawford is able to blend high-level thinking with practical advice and immediate support.
James Till